In Print



Last updated : 23rd May 1998
Back to the New Avengers intro page
---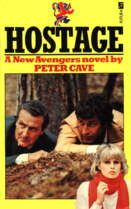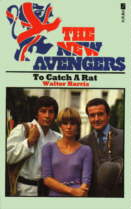 A common marketing ploy used by TV companies is to adapt certain episodes into readable form. With Avengers Film & TV being needy of a bit of extra cash, they were only too willing to grant the rights to release several episodes in paperback. Six volumes were created in total (listed below) by Futura Publishing using the writing talents of John Carter, Justin Cartright, Peter Cave and Walter Harris. These were closely followed by hardback versions which were supplied to lending libraries. The hardbacks are rare but worth tracking down as it is now difficult to find the paperbacks in decent condition.
In addition to this, publishers Brown & Watson released two hardback annuals (1977 and 1978) which included articles on filming aspects of the series, interviews with the stars and new stories in both text and picture-strip form.
Another notable mention goes to Brown & Watson's 'TV Detectives' annual of 1979. This took a quick look at several action series of the time including The Professionals, The Sweeney, the BBC's ultra-violent, infamous Target and The New Avengers.
---
---
Dave Rogers is a very familiar name to many of you, having produced four books covering The Avengers and New Avengers. The first three are now out of print so have a good dig around the second-hand shops or book fairs. Below are summaries of each:


Title
First publ
Publisher
ISBN
Summary of contents
'The Avengers'
1983
Independent Television Books & Michael Joseph
0 9079 6509 1
This first book covers the old show, providing a fair amount of background detail. The episode guide contains story synopses, though some for the Hendry stories are simply brief outlines as there was little information available at the time. Lots of pictures, albeit small and monochrome. The New Avengers chapter has a fair level of background detail but there is no episode guide for some reason.
'The Avengers Anew'
1985
Michael Joseph
0 7181 2604 1
This book redresses the lack of New Avengers episode guide in the previous volume, though this is given in approximate transmission order rather than production order. The remainder of the book contains various articles on stuntmen, vehicles and merchandise. And don't forget Pat Macnee's delightful intro!
'The Complete Avengers'
1988
Boxtree (later published by Channel 4 Books with a 30% price hike!!)
1 8528 3244 4
The definitive volume, in my opinion. This compiles the best elements of the previous two (but often the same typos, too!) and adds further background information including quotes from the stars and film crew. There's also loads of stuff discussing the attempted revivals of the show, including Brian Clemens' 1985 'Reincarnation' script (which seems to have a HUGE plot hole!). Coverage for The New Avengers is now much better and the episode guide is given in Production Order. Good foreword by Brian. Further (and better) pictures, though still only monochrome. Now out of print, but plenty of copies around, providing people are prepared to sell theirs! Well worth getting hold of..... even if you have to steal it!! Also printed in the USA with a different cover.
'The Ultimate Avengers'
1996
Boxtree
0 7522 1010 6
Hmmm... due to it's smaller format, lamentably abbreviated episode synopses and overpricing (17UKP), I really cannot give this one a hearty recommendation, particularly as the previous book is so good. This time around, however, there are a few colour pics (including Honor Blackman!) and anecdotes from Brian Clemens – the one relating the British Leyland farce is a scream! Dave has also added little sidenotes pertaining to particular episodes. For example the fact that the episode 'Noon, Doomsday' (Thorson series) was actually filmed at Brian Clemens' own farm and that actress Trudi Van Doorn, who played Gerda in 'The Eagle's Nest', tragically committed suicide. (Actually, I'm sure she appeared in a 1979 episode of 'Are You Being Served', but under the name Geraldine Gardner). Once again Pat supplies the introduction and confesses to lusting for Joanna. Well, don't we all?!
'The Avengers and Me'
1997
Titan
1 8528 6801 5
Transcribed by Dave from hours of tape recordings specially made by Pat, this is a delightful biography of his time spent on both the old and new Avengers, covering somes areas not mentioned in his autobiog. Thoughts, opinions – some quite candid – and anecdotes are also included, with contributions from other Avengers personnel, too.

However the layout of the text is a little confusing in places: sometimes it's difficult to tell who is actually "speaking".

The big bonus is some great colour photos, including shots of Liz Shepherd (the first Emma Peel) and some rare New Avengers shots taken during the French and Canadian episodes (as a sidenote, it would seem surviving New Avengers publicity shots are now scarce).
---
Now here's a real rarity for you: in 1993 Virgin Publishing released 'The Avengers Programme Guide' (authored by Paul Cornell, Martin Day and Keith Topping) but immediately found themselves facing a lawsuit issued by Linda Thorson as the book contained potentially libellous material. Instead of fighting the action, Virgin promptly destroyed all copies. Well not quite all, because they had already flown a sizeable batch out to Australia and New Zealand. By the time NZ received instructions to burn the books, it was too late – dozens of copies had already been despatched to the shops! Expect to pay large loadsa lolly for this!
However the book was re-issued in 1997 with the offending text removed and under a new title: The Avengers Dossier. This was my first opportunity to see it and I must say it's well worth getting hold of – especially at the amazing price of just 6GBP! Aimed more as a critique of the show, it is often humorous and, indeed, even makes fun of it – especially of the questionable fashions seen in the New series, and not forgetting the hilarious comments re Laurie's music for scenes such as the party in 'The Midas Touch'. How about this on 'K is for Kill': "The K agents wear 1940's fashions in the '70s and don't look as ridiculous in the 1990's as Gambit does!"


---
Also published in 1997 was a book entitled simply 'The Avengers' (BFI Publishing) by Professor Toby Miller. This seems to be an exercise in examining the series from an 'intellectual' viewpoint, with chapters headed Pop, Fashion, Sex, Genre, The Postmodern and Following. Despite good reviews I'm afraid it did nothing to expand my own view on The Avengers. The problem with the book, in my humble opinion, is that any good intention is lost in Miller's pretentious verbiage and psychobabble. Some of the words he chooses aren't even in my dictionary! Whatever he is trying to say was largely lost on me as I attempted to wade through his humorless and often directionless text. Neither entertaining nor informative, I finished the book thinking "So what?"


---




"P

a was a drunkard and gambler; Mama was a lesbian, who moved in with her formidable lover Evelyn, bringing her bemused, be-kilted son with her." What a way to begin an autobiography! Pat Macnee released his memoirs in the 1988 book 'Blind in One Ear' (published by Harrap, ISBN 0 7472 3305 2) which details the extraordinary life he has led: his early years being reigned over by the "old bats" who were a far more bizarre bunch than any of the characters portrayed in The Avengers. Pat painfully describes how difficult it was to land acting roles. Not that life became much easier during The Avengers, to which many pages are dedicated. Coverage of the New show is, unsurprisingly, scant. Yet despite all the problems, the text is sprinkled with plenty of humorous anecdotes. The book was reprinted a few years ago and is still available – try Amazon.
---
Dave Rogers' Avengers society produces a fanzine, 'Stay Tuned', approximately three times a year. This looks at various aspects of all 'versions' of The Avengers. Write to: 'Stay Tuned', PO Box 375, Bilston, West Midlands, WV14 8DJ, England enclosing a Stamped Addressed Envelope or International Reply Coupon.


---
Two good sources for the paperbacks and annuals are:-
Sugen & Co,
Southwood House,
Well,
Bedale,
North Yorkshire DL8 2RL,
ENGLAND

Telephone 01677 - 470079
This company actually specialises in TV- and Film-related books. Write to them for a catalogue.


Also:
CULT TV MEMORABILIA, 8 Western Road, Asfordby, Melton Mowbray, Leicestershire LE14 3UE, England (tel: 01664 813577). Run by Chris Johnson, a catalogue is produced on a bi-monthly basis.




---

There will, of course, be publications that we have missed. If you know of any, please let Dave know. Thanks!
Back to the New Avengers intro page