Avenging Images



Last updated : 10th September 1997
Back to the New Avengers intro page
---
Many thanks indeed to Brian Clemens for granting us permission to use the New Avengers images found here. Plus Dave Rogers for assistance and advice. Cheers, lads! Currently the images here are not always of tremendous quality but we'll be seeking superior copies over the coming weeks.
This page contains thumbnails of the images currently available - click on the thumbnail to download the full-size picture.


---

Patrick Macnee returns as John Steed in The New Avengers... (Size: 20Kb)



... and is soon in action as he takes on an old foe – but will this really be The Last of the Cybernauts...? (Size: 19Kb).



Mind you, he's not alone in his battles – Purdey's getting ready for action. Joanna Lumley – Wow!! (Size: 21Kb)



WOW!! 'Nuff said! (Size: 35Kb)



Purdey sees off Mullins (Edward Petherbridge) with her lethal ballistic ballet! A scene from Faces. (Size: 18Kb)



How the French backers wanted to see Purdey. Oooh, er! (Size: 35Kb)



The third member of our team was Mike Gambit (Gareth Hunt), though he didn't usually look like this! A publicity shot taken on the set of Faces. (Size: 53Kb)



That's better! (Size: 27Kb)



Jo and Gareth during their screen-test. By coincidence they happened to test together. (Size: 33Kb)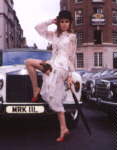 I know this is dreadfully sexist but I just love this shot!! Despite early claims and publicity shots that Purdey would be a "stockings and suspenders girl", the idea was soon dropped. (Size: 53Kb)



Gareth and Joanna pose for a publicity shot in March 1976 – just prior to the start of filming for the first series. (Size: 37Kb)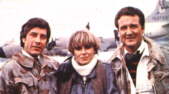 "Now we are three!" On the set of Dirtier by the Dozen. (Size: 34Kb)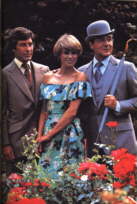 Another great publicity shot. (Size: 71Kb)



Waiting for a Canadian contact – a publicity shot taken during filming of Complex. (Size: 44Kb)



Joanna and Gareth reunite for the launch of the short-lived Video Gems tapes in 1994. (Size: 20Kb)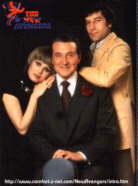 THE NEW AVENGERS
(Size: 75Kb)
---
Back to the New Avengers intro page