---
Last updated : 1st September 2002

---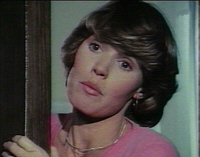 Unfortunately little is known about Bridget Brice's post-Professionals film and television career and I must confess most of the information below is taken from the Internet Move Database.
Bridget starred in eight of the 13 first-season episodes as Cowley's secretary Betty. Oddly she was replaced by another actress in 'Stakeout' and sadly the part was dropped altogether from the second season when it was decided to give Cowley more of a "mobile" role and move away from the idea of a fixed base for CI5.
During her short spell on the show, Bridget portrayed Betty as the cool-headed, ultra-efficient secretary one would expect Cowley to have. She seemed to work endless hours for her boss - indeed she never even left the confines of the office! But Bridget made excellent use of the limited role and her on-screen chemistry with the leads lent proceedings some humorous moments. But character development for Betty was absolutely zero. I think this was a shame as in later seasons Cowley tended to be ferried around in his car by a succession of anonymous blondes - usually non-speaking roles. It's not known what Bridget's views on the series are but she does not appear willing to reminisce about it.
During the 1990s Bridget seemed to drop out of acting but in 2001 made a return to TV in an advert for PPP Healthcare. Futher appearance in television adverts followed but her main occupation now is as an independent Personal Development Consultant.
As ever, any further info from fans would be much appreciated!
---
All shows made in the United Kingdom
BRIDGET BRICE

| Year | Film or TV Show title and country | Character | Comments |
| --- | --- | --- | --- |
| 1966 | A Man for all Seasons (Film) | | |
| 1967 | Sanctuary episode 'The Mission' | | Drama series concering a dro-in centre run by nuns. |
| 1968 | Z-Cars episode 'The Attack' | | Britain's first "gritty" cop show - in some ways a forerunner of The Sweeney. Running for fifteen years and almost 800 episodes, sadly over half of them were wiped, including this one. |
| 1968 | The Company of Five episode 'This Isn't Just One of Those Physical Things' | Susan Leighton | Anthology series of six plays using a main cast consisting of the same five actors, though with changing guest stars each week. |
| 1969 | Department S episode 'A Ticket to Nowhere' (TV) | Susan Blain | With its unusual plots, high production values and larger-than-life lead character (Jason King, portrayed by Peter Wyngard), Department S was Lew Grade's only creditable attempt to rival The Avengers. Undeserverdly killed off after just one season. |
| 1970 | ITV Playhouse episode 'A Man for Loving' | Lucy Beal | Apparenly a light comedy with Bridget playing opposite Lorne Greene of Bonanza and Battlestar Galactica fame. |
| 1970 | The Wednesday Play episode 'The Italian Table' | Ursula | |
| 1970 | No Blade of Grass (Film) | Jill Locke | Seemingly this was some sort of eco-drama concerning a deadly virus descending on London. Anyone seen it? |
| 1970 | The Twelve Chairs (Film) | | Mel Brooks comedy concerning treasure hidden in a chair(?!). Not sure where it was shot - possibly not in the UK. |
| 1970 | From a Birds-Eye View episode 'Hurricane Millie' | | Sitcom about two flight stewardesses. It doesn't appear to have been successful but it is now available on DVD. |
| 1971 | Man at the Top episode 'Nobody Gets in My Way' | Secretary | Popular drama series charting the determination of a Yorkshire-born businessman to build a successful career, examining then-perceived "southerners vs northerners" attitudes. Bridget's episode, from the show's second season, may be issued by Network DVD during 2013. |
| 1972 | Doctor in Charge episode 'There's No Fire Without Smoke' | Nurse | Follw-on series from popular and long-running medical sitcom Doctor in the House. |
| 1973 | Public Eye episode 'The Trouble with Jenny' (TV) | Sarah Graham | Another private detective series but one depicting perhaps a more realistic approach. Alfred Burke played the downtrodden, impecunious Frank Marker - a far less glamorous lifestyle than the usual TV gumshoe. Despite the deliberately downbeat premise, the series proved so popular it ran for over ten years. In fact Bridget had actually appeared in one of the series' earliest episodes in 1966 but this hs been lost, probably a victim of wiping. |
| 1974 | Shoulder to Shoulder (TV miniseries) | Ruth | Miniseries charting the Pankhurst movement. Does anyone remember this? |
| 1974 | Doctor at Sea episode 'The VIP' | Polly Roberts | Short-lived follow-on from Doctor in Charge |
| 1974 | The Sweeney episode 'Thin Ice' | Secretary | Bridget appears for just a few moments (and I don't think she even had any lines) taking some dictation from John Thaw's character, Regan. |
| 1975 | Village Hall episode 'Miss Health and Beauty' | Doreen Price | Anthology drama series (of which Lewis also appeared in one episode), now available on DVD. |
| 1979 | Dick Turpin episode 'The Upright Man' | Sal Hawk | Fondly-remembered adventure series with Richard O'Sullivan, now available on DVD, although picture quality is said to be poor. |
| 1980 | George and Mildred (TV movie) | Hotel Receptionist | This was a (very weak) movie spin-off from the popular 70s sitcom. A small, unrewarding role for Bridget |
| 1980 | Shoestring episode 'Room with a View' (TV) | | Popular TV 'tec series. |
| 1980 | Coronation Street (TV) | | Soap which started in 1960 and still running today. I think Bridget was only in this for a handful of episodes. |
| 1980 | Loophole (aka 'Break In', film) | Emily | Albert Finney and Martin Sheen plan a bank robbery. |
| 1983 | Lenor fabric softener (TV advert) | | |
| 1984 | Real Life (film) | Judith | |
| 1986 | Howard's Way (TV) | Jackie Lewis | Popular sea-faring soap. Apparently Bridget appears in the twelfth episode of the second season. |
| 1986 and 1988 | Sorry (TV) | Susan Hadlee and Pippa | Long-running (seven years, I think) sitcom vehicle for popular diminutive comedian Ronnie Corbett. He starred as fortysomething timid batchelor librarian Timothy Lumsden, still living with his overbearing mother whose cooking was appalling ("Timothy - you've got a yellow streak in you!" / "Yes, mother - it's last night's curry!") and sympathetic, ineffectual father. Bridget appeared as two characters, latterly in most of the final season (as Timothy's sister, possibly). |
| 1992 | Wilderness Edge (TV) | | Drama series set in a children's outdoor activities centre in the Lake District, according to IMDB. |
| 2001 | AXA PPP Healthcare (TV advert) | | |
| 2003 | Flora margarine (TV advert) | | |
| 2010 | Danone Actimel (TV advert) | | |
| 2011 | LV Insurance (TV advert) | | |