---

Last updated : 3rd April 2000
Special thanks to Julia Jones at Dennis Davidson Associates for all publicity material and advice, corrections, etc, up until October 1998. Also to series producer David Wickes and production executive Heide Wilsher.
An Episode Guide to the new series is available and I would like to extend my thanks to Ann Sahlstrom and Jack Yan for contributing their comments and a tremendous amount of other information.
You can read an exclusive interview with the producer of CI5 The New Professionals here!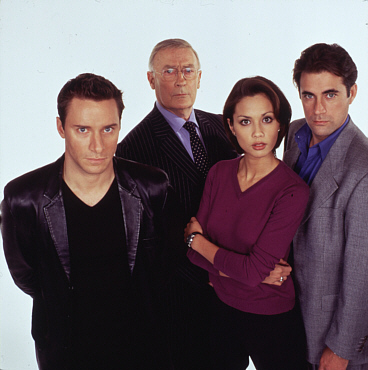 Concept and History Behind the New Series
During the weekend of March 1st 1997 Lewis Collins, in a surprise, little-publicised appearance on UK television, announced that he was discussing the possibility of starring in a brand new series of The Professionals.
Confirming this, press reports explained that Bodie would now be head of CI5 and that TV veterans David Wickes (who had directed a number of episodes of the original series) and Brian Clemens were both involved.
"I intend to keep the unique heart of The Professionals so that its loyal following will not be disappointed" enthused Wickes to the Daily Mail newspaper (and others) on 10th June 1997. And with Clemens as Executive Producer and other ex-Professionals personnel on hand (Ray Austin, Sid Hayers, Christopher King to name a few), things were certainly looking good! Not to mention that it seemed almost certain Lewis would be heading up the new team. Indeed many fans were thrilled at the prospect of seeing him make a long-overdue television comeback in more stories of wheel-spinning, gun-toting, head-cracking, wise-cracking, politically incorrect, plot-driven action!
Considering that since the end of the original series in 1983, we had been largely missing good old action/adventure from the TV screens, Wickes felt it was right to bring back a series that had been so phenomenally popular first time round. And no doubt his enthusiasm was spurred on by the amazing success of the 1996 Nissan advert which, despite parodying the old series, indicated there was still a huge fondness for the show.
The UK broadcasters, however, were far less certain. Not one of them were prepared to back the series, despite the fact that in the early 1990s LWT had actually asked Brian Clemens to create a new series along similar lines to the original Professionals. (In the event Brian suggested they simply revamp the original show, to which LWT responded that they were looking for something similar to The Professionals but not actually The Professionals!?!). However David Wickes was determined to get the new show off the ground and sought support from London City sources. There he met with a more favourable reception as several financiers (who undoubtedly remembered the original series from their youth!) agreed to put up the money, particularly as Wickes was convinced he could sell the show to the lucrative American market (a feat the original series never achieved, unless you count the handful of small cable companies that screened a few episodes in the early 1980's). In fact DWTV claim that they never tried to push UK broadcasters anyway.
One major enhancement over the old series was that although CI5 was still based in London, it would now be operating around the world. Indeed the squad was financed by Britain, America, Japan, Germany and France. David explained that with the world being a much more dangerous place than twenty years previously, CI5 will be called upon to tackle much larger-scale problems, as exemplified by the Oklahoma bombing and Waco siege. Ethnic cleansing, powerful Mafias, ivory poaching and the slaughter of endangered species are other subjects the series would cover (as well as tradional themes such as terrorism, smuggling and espionage).
Indeed he was quick to point out that the new series "will not operate in a timewarp. The nineties squad will be made up of millennium men and women dealing with millennium problems." (source: Daily Mail newspaper, 10th June 1997).
Initial reaction to the series from the fans was cautious optimism. Most were very glad that Lewis was to be retained....
Unfortunately the production was about to be dealt its first major blow. After six months of negotiations it was suddenly announced that Lewis would not be appearing after all. Incredulous fans sought an explanantion. David Wickes simply stated "We decided not to cast Lewis Collins". Lewis himself refused to comment, insisting that 'politics' prevented him from revealing the circumstances – a claim that Brian Clemens denied: "Lewis has NOT been gagged" he told The Professionals Appreciation Society. Either way he left entirely of his own choosing. The tabloid press, in their usual destructive manner, invented explanations: apparently Lewis would "rather do pantomime" and/or "did not wish to be away from his Los Angeles-based family."
Salvation came in the form of Edward Woodward – a move which was not only welcomed by many existing Professionals followers but also enthusiastically greeted by EW fans themselves. Indeed it later transpired from an interview given by Edward that he had been David Wickes' original choice, anyway. (I would assume Brian had fervently suggested that Lewis be approached.)
Given Martin Shaw's poor relations with the producers it came as no surprise to learn that he was not asked to reprise his role – though it would be highly doubtful that he would want to return anyway. Strangely, though, Brian was reported as saying "I would love Martin to appear in the new series and the door is always open. But he has made it clear he thinks he is too serious an actor to be involved in all of this again." (from the Daily Mail newspaper, 10th June 1997) . In a TV interview in September 1997 (the ITV programme This Morning) Martin bemoaned his "Serious Actor" image and claimed that he hadn't even been approached about the new series. He didn't, however, say whether he would have been keen to take the part! Whatever – I would imagine Brian's idea would have been to have Martin as a guest star in one or more episodes.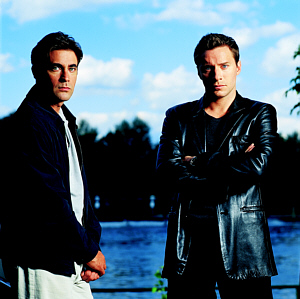 Some uncertainty surrounded the casting of the two new guys. Canadian Kal Weber and Brit Colin Wells were virtually unknown at the time – it did seem a tad risky to launch a major series with such unknown quantities. However, assuming that the producers had found two actors who could work well together (as Martin and Lewis had), there should have been no need to worry. After all, we didn't want to see them 'act' as such: we wanted very natural, spontaneous performances.
A fourth team regular was to be a woman, played by Canadian Lexa Doig – again virtually unknown (in the UK, at least). This certainly caused some raised eyebrows amongst fans! A woman in a distinctly male-oriented series? Were four members one too many? David Wickes rightly explained that, as the new series was very firmly set in the 1990's, it HAD to reflect women's role in contemporary society. (Interestingly an early proposal was to retain the three-lead format of the original show but have a male/female pairing – an idea Brian Clemens, despite his Avengers background, quickly dismissed). Neverthless surely it would be difficult to 'place' four regulars in the scripts...?
With primary casting completed, events moved along very quickly. A press launch was held at London's Tower Bridge on September 26th 1997 and filming commenced on October 12th. News soon leaked that Brian had written most of the stories and this led fans to be even more optimistic.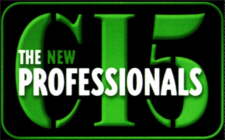 Interestingly even once filming was well under way, the Wickes company was still trying to decide on a title for the new show. They toyed around with variants based around "CI5", "The Professionals" and "New". Eventually they settled on "CI5 – The New Professionals" but broadcasters appeared to have free-reign on this anyway. For example Sweden called it simply The Professionals and, hysterically, it was renamed The Professionals – The Next Generation in Germany!! (Who says Germans don't have a sense of humour??!!) A striking, revised CI5/The Professionals logo was produced (with the "New" moniker inserted), as illustrated here.
With CI5's new global remit, filming took the cast and crew to locations in southern England, South Africa and the USA. (Although Canada was also mooted, plans to film there were dropped for some reason.) English locations included: RAF Lyneham in Wiltshire, Brands Hatch race track in Kent, various airfields in Oxfordshire, Langley in Berkshire, Shepperton Marina and Brighton Marina. Filming in South Africa (during November 1997) commenced in Cape Town and went on to the stunning Shamwari Game Reserve on the Eastern Cape. US shooting involved Wilmington in North Carolina and Washington DC.
But filming wasn't always a smooth process – particularly for the actors. In The Bullet magazine Edward talks about several "crew changes" during production which, he felt, was not conducive to generating a "family" atmosphere on set. DWTV explained that this came about because on returning from South Africa (where they had been obliged to hire local talent), many of the UK crew from the first phase of shooting had moved on to other things.
Interestingly Edward hinted that Brian Clemens never visited any shoots. Edward for one felt that having the main writer actually present would have helped in applying suitable 'characterisation' to the scripts. However DWTV said that Brian certainly did attend some shoots and was very active behind the scenes, not just writing and editing scripts but also offering advice on viewing the daily rushes.
As it was, the scripts merely laid out the characters' backgrounds – as with many series, it was for the actors themselves to "add paint to the canvas", as Edward said....
Keel / Kal Weber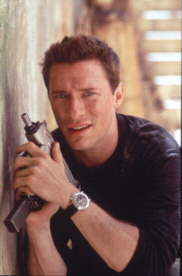 Chris Keel was a US Navy fighter pilot who went on to join the elite Navy Seals. In Brian's original "bible" for the series he decided that although CI5 agents are supposed to remain emotionally detached from their assignments, Keel has many ghosts from the past that continue to haunt him – particularly the death of his bride when she and a number of wedding guests were slaughtered by unknown assassins. However we saw little of these characteristics in the finished product and this particular incident was only referred to once and never explained.
In an interview for BBC Radio Five Live in August 1998 (two months after filming had completed), Kal had this to say: "[The original series] is such a huge thing in England and it's a bit daunting sometimes when you think of what you have to live up to. All you can really do is hope people will accept you for what you are in the present moment. They are bound to make comparisons – that's to be expected. But we are a completely different show – the production values are totally different."
Curtis / Colin Wells
Sam Curtis was drafted into the Secret Service during his days as a University student to work undercover in hotspots all over the world. Down-to-earth, yet suave, stylish and smooth with an air of maturity, he enjoys fine food, wine and music.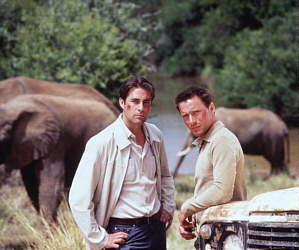 As to the actual pairing of Wells and Weber, perhaps we're subconciously comparing it too closely to the old series, but most agreed there was little 'rapport' between their characters – a situation which didn't really seem to improve as the series progressed. One might assume this was because there was almost no accord between the actors but apparently they got along extremely well on- and off-set. Then again, scripts consisting of contrived expositional banter didn't help, so it is clearly not the fault of the actors, who simply were given scripts that offered little to really chew on!



Backus / Lexa Doig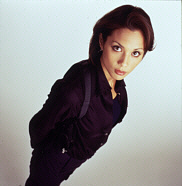 Tina Backus was a computer and martial arts expert, whose talents were first spotted by the Canadian Secret Service before she was drafted into CI5. Strangely the publicity info from DWTV insisted she was CI5's first female agent. A Sunday Times article reported that she spends most of her time in the office, though a small feature in the Daily Mail paper the quoted Lexa as saying Backus "is always in the thick of the action. I'm not 'arm candy' or set dressing. I enjoy the luxury of not being the 'token' female. I think we should be beyond being surprised by having a tough female character. Having 'Backus' is definitely not about being politically correct. She's a nineties woman and her name is a play on 'back-up' because she frequently comes in to save Curtis and Keel's bacon! The boys go out and do the dirty work and I'm there to support them."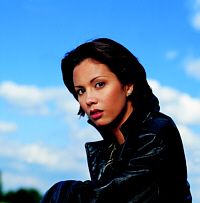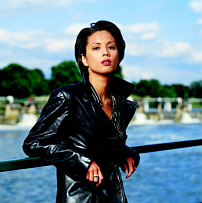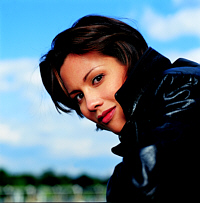 Malone / Edward Woodward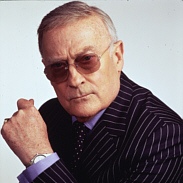 Harry Malone was an English ex-Naval officer. (Originally his character was to be an Anglo/Irish ex-CIA agent called Declan but Edward protested that to attempt to play a character of so many nationalities would have been impossible!). To be honest we never really learned much about his character throughout the series.
Semi-regulars in the series included Adrian Irvine playing fellow CI5 Op Spencer and Charlotte Cornwell (previously seen in Stardust, both Rock Follies series, The Russia House, The Krays and the 1997 Saint film) as The Minister.
Look, Style and Sound
The youngsters had a far more sartorial dress-sense than Ray Doyle and "designer" clothes and accessories replaced the FU denim and Porsche wristwatches of old. Several "product placement" deals were agreed with companies including Hugo Boss (clothes and wristwatches), Raymond Weil (wristwatches again), Whistles, >Agnes B, Jigsaw (all clothing) and Philips (electrical). A few folks have said they thought the show was too fashion-oriented but I disagree – it was certainly no more clothes-concious than the old series, anyway. Several vehicle companies too, of course, including Nissan, Ford (hooray!), Land Rover, Lotus and Ducati (motorcycles).
The other "stars" were the new cars. Nissan's 200SX was the most conspicuous while Backus was occasionally seen in an all-terrain Nissan Terrano. A sporty Ford Mondeo and Lotus Esprit made occasional appearances, too. To be honest, they all looked a bit "anonymous" and certainly didn't have as high or recognisable a profile as the classic Capris – though one could hardly expect the new team to hit the streets in cars that were of vintage design! I suppose it's more of an indictment against today's car industry, rather than DWTV's choice of vehicles!
Stunt co-ordinator was, once again, Peter Brayham. In an interview for the BBC's motoring magazine 'Top Gear' (April 1998 edition), he fondly recalled how great the old Ford Granadas were for performing stunts and was finding the new Nissan 200SX just as capable, though the Lotus not as practical for car chases, particularly for executing handbrake turns!
Peter revealed that Health & Safety regulations are now far stricter than they were during the filming of the old series, though hinted that the new boys had done some of their own stuntwork. Indeed a mistimed "gag" ended with Kal Weber being accidently shot in the head with a special-effect bullet! Fortunately he recovered a few days later.
Title Sequence
Unlike the especially-filmed sequences used in the old show, DWTV used a collage of quick-cutting sequences from the actual episodes. However there was a new version of the "car-through-glass" as a nice nod to the original series.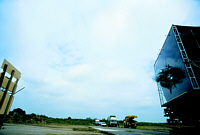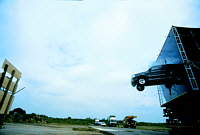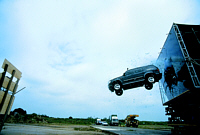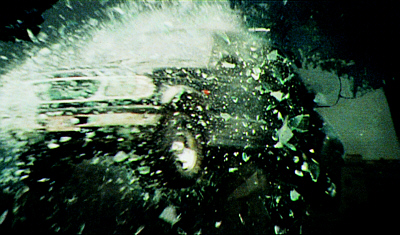 Music
The new title theme is, in fact, a revamped version of the original and apart from different instrumentation (the orchestral brass being replaced by a modern synth sound is the most obvious difference), is very close indeed. Laurie Johnson himself recorded the new version.
The incidental themes, however, were composed by Chris Winter and Hywel Maggs (virtual unknowns amongst viewers but apparently reasonably well-known in the industry). Despite his apparent supervisory role, Laurie does not appear to have had a hand in the incidental music at all.
Interestingly DWTV first approached the band Jamiroquai, who are fans of the original series. Sadly they already had commitments elsewhere. Given the band's supreme ability to meld currently-popular seventies styles with chart-topping catchiness (give "Cosmic Girl" a listen!), one can't help feel they would have been an ideal choice for the show. They would have been a far stronger "hook" for the commercial saleability of the show than Winter, Maggs and even (dare I say it) Johnson!
Action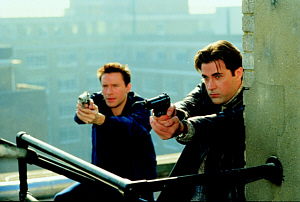 As usual great emphasis was placed upon exciting action and DWTV did not skimp on this!
Violence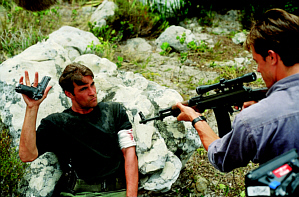 I can't quite figure this one out. In some episodes (I'm thinking in particular of the ransom scene from 'Back to Business') it's rather obvious from the camera angles and editing that they are trying to make the series appear violent without offending certain broadcasters' delicate tastes. At other times (most notably in the caravan scrap in 'Orbit' and numerous other shoot-out scenes) the violence levels surpass those of the original show. It's almost as though there was a change of policy part-way through filming the series. Whatever – it was heartening to see they (eventually) had the courage to portray violence realistically.
Transmission
During 1997 and 1998 DWTV agreed sales with following countries/broadcasters:
Australia, Channel 7 (tx from 28th May 1999)
New Zealand, TV3 (tx from 3rd March 1999 but series dropped after six episodes)
Sweden, Kanal 5 (tx from 3rd September 1998 – and ran the series three times)
Denmark, TV Danmark (tx from 7th September 1998)
France, M6 (from 26th April 1999)
Germany, ARD (from 27th March, 1999)
Eire, TV3 (from 1st October 1998)
Hong Kong (from 7th October 1998)
Norway
Switzerland – syndication deal with the French and German broadcasters mentioned above to cater for the French- and German-speaking areas of that country.
Belgium – VRT
Czech Republic – Czech TV (from 6th January 1999)
Philippines – Star World (from October 1998)
Israel – Star World
United Kingdom – Sky One (from 19th September 1999)
Ultimately over 40 countries screened the series, including China, India, Malaysia, Indonesia, Jordan, Kuwait and Singapore. The vast majority were under syndication from Rupert Murdoch's giant Star World satellite and cable network.
First out of the starting gate were TV Danmark and Sweden's Kanal 5 cable channel. Indeed as post-production on the series was still in progress, these two countries were literally sent the episodes one at a time and DWTV worked desperately hard to get them ready!
French, German and Australian terrestrial stations who 'pre-bought' the series all rescheduled the show until long after their originally-declared dates. However Star World transmitted across Asia as planned but judging by lack of response from viewers in the satellite territories, it seems the series has had little impact there.
In terms of the UK, obviously DWTV were hoping for a BBC or ITV pick-up but both broadcasters initially strenuously denied that they were even considering the series. That's not too surprising: with the exception of foreign imports, they tend to demand some form of creative input to the shows they screen – The New Professionals is, of course, an entirely independent production. As to Channel 4, well it's not really their sort of show. Channel 5 were very interested but conceded they simply couldn't afford to pay the price DWTV were demanding, which is reportedly 75,000GBP per episode.
Given all this, it seems bizarre that the Wickes company didn't try a little self-promotion in the UK: one expected to see the cast on talk shows and the like. For a time DWTV continually insisted that they were "in negotiations with major British broadcasters" but, of course, refused to name any. However they later claimed they "were not yet concentrating on the UK market, anyway."
A very long time seemed to pass by without any definite news of a UK broadcast, yet it transpires that plans were indeed afoot...
In January 1999, Murdoch's European Sky TV satellite company plugged the show on their website, giving January 10th, 8pm as the start of transmission. However on contacting them I was astonished to be told that they never had bought it!! It would seem that they had been so confident in agreeing a deal with Wickes, they told everyone they had got the show! Nobody is prepared to reveal the circumstances surrounding the confusion (indeed DWTV seem as puzzled by it as anyone!) but Sky remained keen on completing the deal. And in July 1999 they again announced that they had picked up the series. They began transmission on September 19th but there further problems...
Firstly, despite Sky's claims during July and August 1999 to be gearing up for, in their words, "a huge media push" for the show, fans were stunned at the abject lack of promotion. Even Sky's own monthly listings magazine devoted a mere two square inches of space to plug the programme. Although there were one or two interviews in the press and local radio, publicity peaked with the awful "This Morning" ITV show where Edward, Colin and Kal were interviewed.
But by far the biggest problem as far as viewers are concerned is that Sky chose to screen cut-down prints. Each episode had several brief snips. Sky claim that this is because of the need to remove "excessively violent or disturbing" material, yet one has to ask why, for example, shots of a door being blown up and Kal Weber sliding down a rope would fall foul of this rule. And why didn't Sky screen the show in a post-watershed timeslot, anyway? DWTV pursued Sky over this, though Sky refused to reconsider their actions.
Needless to say, DWTV still wished for a UK terrestrial deal. Interestingly ITV implied that they would reconsider the series providing the price was lowered. However David Wickes did not not appear to be in a negotiating mood with the network. In The Mail on Sunday from 23rd May 1999 a friend of the producer was quoted as saying Wickes "would sooner lock it away in a vault than hand it over to ITV for next to nothing."
But aside from all this, the most important sale DWTV needed to make – in order to keep their backers happy – was to the USA. Although it appears there was interest shown by some of the small cable companies, what was required is a BIG network. Either way no USA sales were ever achieved.
According to David Wickes, the main reason for lack of US sales was that the Americans are demanding a minimum of 22 episodes. Yet the ability to fulfill this requirement depended on acquiring the finance to do so... and the money would almost certainly have to come from a major sale to the US (or UK) in the first place. So it could have arguably been viewed as a Catch 22 situation: no sale until more episodes but no more episodes until there had been a sale. I also have to say that it seems surprising DWTV were not aware of the 22-episode requirement before they embarked on the series.
In the meantime some countries apparently dropped the series before screening all thirteen episodes. This was certainly true of New Zealand. One can only assume that the respective broadcasters decided the allocated timeslots are unsuitable or that ratings weren't as high as they had hoped. DWTV said that the NZ problem was caused by rival broadcasters suddenly scheduling major films in a ratings war. Yet contacts in NZ at the time told me otherwise.
As a post-script to this, the series failed to gain financial backing for a second season.