---
Last updated : 23rd December 2005

---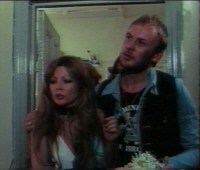 Trevor Adams was quite a well-known face in the 1970s, usually popping up in various popular sitcoms. His best-remembered role is probably that of the character Tony "Great!" Webster in The Fall and Rise of Reginal Perrin. However he never won any leading roles and decided to quit acting around 1982. He went on to study law and jobbed around various London solicitors' firms before moving to Norwich. However the acting bug was still biting and he tried to make a comeback in the 1990s. Unfortunately he missed out on the revival of Perrin in 1996 because the writers assumed he was still in Law.
Although Trevor appeared in just three Professionals episodes ('Private Madness, Public Danger', 'Stakeout' and 'The Rack'), his character always worked as a great foil to Bodie & Doyle and fans seem to remember Benny fondly. A shame he wasn't a more regular character!
Apparently Trevor did have quite a lot of theatrical roles under his belt, though I have no info on this at the mo - any help would be appreciated!
Tragically Trevor passed away on 15th December 2000.
Many thanks to Gareth Bevan and Trevor's daughter Angie for info.
---
All shows made in the United Kingdom
TREVOR ADAMS

| Year | Film or TV Show title | Character | Comments |
| --- | --- | --- | --- |
| 1967 | Z-Cars episode 'A Right To Live' | Driver | Highly popular proto-Sweeney cop series. |
| 1968 | Honey Lane episode 'The Matchmakers' | Young Man | Seemingly this was a short-lived soap set amongst market traders in London's East End. |
| 1970 | Softly, Softly: Task Force episode 'Do Me a Favour' | Duggan | Spin-off series from Z-Cars |
| 1970 | Groupie Girl (Film) | Sweaty Betty Group member | Turgid, depressing study of life on the road with an aspiring pop group. |
| 1970 | Julius Caesar (Film) | Caesar's servant | With Charlton Heston, Jason Robards, John Gielgud and Diana Rigg, this appears to have been US/UK collaboration. |
| 1971 | Private Road (TV play?) | Alan | |
| 1971 | The Ten Commandments episode 'An Object of Affection' | Derek | No further info |
| 1971 | And Mother Makes Three episode 'The Matchmakers' | TV repair man | Popular and long-running sitcom. |
| 1972 | Dixon of Dock Green episode 'Mrs Raven' | Rick | The grandaddy of all British cop shows! (Although it was well past its prime by this point.) |
| 1972 | Crown Court episode 'Lieberman vs Savage' | Mark Lieberman | Wolfe Morris stars as a businessman who brings about legal proceedings against his lover, Delia (played by Barbara Shelley), when a dispute arises over a luxurious apartment. Trevor plays Lieberman's son, accused by his father of having an affair with Delia. |
| 1972 | Public Eye episode 'Many a Slip' | Farmer | Fondly-remembered private detective show. |
| 1974 | How's Your Father? episode 'That's the Ticket' | ? | I can't remember this show at all! |
| 1974 | Play For Today episode 'Goodbye' | Boy | |
| 1975 | Village Hall episode 'The Rough and the Smooth' | George | Drama anthology series. Lewis appeared in one of the other episodes. |
| 1975 | My Honorable Mrs episode 'A Home from Home from Home' | Patrick | Long-forgotten sit-com - only ran to seven episodes, I think. |
| 1975 | Fawlty Towers episode 'The Wedding Party' (TV sitcom) | Alan | This was the one where Basil (John Cleese) becomes convinced that all the guests are having illicit affairs with each other. Not one of the better ones, in my view but Trevor gives a good performance. |
| 1972 | Crown Court episode 'A Bang or a Whimper' | Martin Pettigrew | |
| 1976-79 | The Fall and Rise of Reginald Perrin (TV sitcom) | Tony Webster | Like Fawlty Towers, this was one of the Beeb's many classic sitcoms of the mid-70s which still plays to fanatical audiences today. The late great Leonard Rossiter headed the cast playing an executive in a small confectionery company who decides to "drop out" of his middle-class existence and fake his own death. Trevor played one of his junior colleagues. |
| 1977 | The New Avengers episode 'Dead Men Are Dangerous' | Sandy | A small role as a filing clerk. Incidentally this episode starred Clive Revill who was the first actor to be offered the role of Cowley. |