---

Last updated : 5th October 2014
As discussed elsewhere on the site, when originally transmitted in the UK in 1977 and '78, all first season episodes carried a different title sequence to the classic "car-through-glass" one that we are more familiar with. The entire sequence was shot - immediately after production of the episode 'The Female Factor' - at what had been the Rockware Glassworks in Greenford, Middlesex. It is now the Greenford Royal Mail Centre. Although not publicly accessible, this Google Street View affords a limited view of the railway viaduct that is seen in the opening shot. (Many thanks to John Jenkinson for assistance!)
---
The first season episodes all concluded with an end credits sequence that has been rarely seen since the original UK transmissions. It commences with a high-altitude shot of St Paul's catheral in London, then gradually pulls back and pans over the River Thames.
The history behind this long-lost version - not "found" again until 2013 courtesy of the film negatives being re-discovered by Network - is has a further mystery: an alternate version consisting of a rather plain design, as shown below, was also produced but its use in actual TV transmissions remains uncertain. Either way, for the second season this had evolved to contain the familiar "silhouettes" motif which was substituted into repeat screenings of first-season episodes.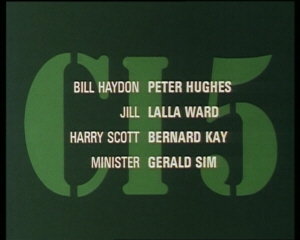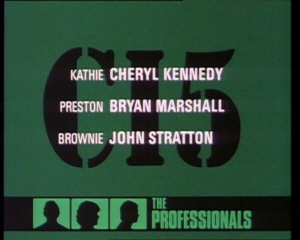 So what became of the "assault-course" and "London landscape" sequences? Well they are both still present on all of Mark 1's own prints but LWT felt that the opening sequence was poor (indeed most fans would probably agree that, rarity value aside, it looks rather cheesey!) and production on the second season afforded the opportunity to film the "car-through-glass" titles. Subsequently this was "retro-fitted" onto LWT's copies for all first-season episodes for the benefit of repeat and overseas transmissions. As to why the "London landscape" end sequence was also dropped is not clear, though the "silhouettes" version may have simply been deemed more in keeping with the graphics animation of the new opening titles.
Until recently most TV and video/DVD companies were supplied with prints that have been transferred to digital D2 tape by the holding company British Independent Television Enterprises (BRITE). Curiously 'When the Heat Cools Off' appeared with the original assault-course opener. Quite why this has happened, I have no definite answer - I can only assume the car-through-glass version of this episode was unusable for some reason (or had gone missing?), so BRITE had to use Mark 1's instead and clearly didn't bother to re-graft the car-smash titles on to it...
Now that Network and the BBC have created new prints of the first-season episodes as originally transmitted, it is to be hoped that future High Definition television repeats will comprise the same elements.